Greetings!
We are a community-minded group of warm and welcoming people engaged in a life of compassion & gratitude through the Teachings of Jodo Shinshu Buddhism. EVERYONE is welcome!
What to Expect
A service is a time to listen to the Dharma, the Buddha's teachings. Services can include readings, chanting and a Dharma talk (sermon) by the Sensei that help us to understand and integrate the Dharma into everyday life – no prior knowledge or experience is necessary.
The services are conducted in English with the exception of some traditional chanting. Service books are provided so that everyone can join in the chants/gathas that are timeless and spiritually uplifting.
Services are about an hour in duration and there is an informal social tea/coffee afterwards that everyone is welcome to join.
Dress is "respectful" casual. Please be aware that we do remove our shoes before entering the main hall of the Temple. You are welcome to bring indoor footwear/slippers for warmth and comfort if you wish.
There is no cost to attend however, please consider making a donation to support the Temple or become a member so that the Calgary Buddhist Temple can continue to share the Teachings.
Students visiting because of class assignments are welcome. Feel free to stay after the service to ask questions.
Please check our Calendar for special events.
We take pride in our Temple and would happy to see you!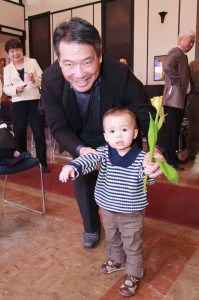 Children
If you have children, bring them along. Children are welcome to attend any Sunday service but on specific "Dharma Time for Kid's" days, there are special activities that are hosted by one of the adult temple members or parents.
Everyone takes part in the first part of the main service and then the children are excused to the classroom/boardroom.
Please check our Temple Calendar for specific Dharma Time for Kid's dates and kindly RSVP attendance to Erin to help prepare for confirmed class sizes.