President's Message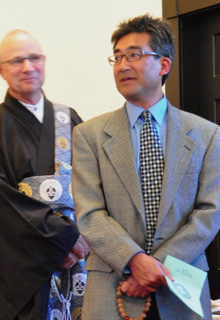 Greetings from the Calgary Buddhist Temple
Thank you for visiting the Calgary Buddhist Temple website.  We opened our doors at the present location in October 1984 to a membership primarily of Japanese heritage.  Now in our 34th year, our temple has been embraced by the general community which is reflected in our membership today.
Join us for our weekly services, events, and activities going on throughout the year. Sensei Martin is always reminding us of our Temple's Vision statement "To set in motion a way of living, learning & teaching a life of joy and gratitude through Jodo Shinshu Buddhism."   You will find his down-to-earth way to guiding and teaching us, refreshing and a wonderful spiritual experience. We are also lucky to have Sensei Robert and Sensei Ken who provide additional wisdom and support at the temple.
I am honored to be the temple president. If we have not met yet, please come say hi at any of the Sunday services.  My hope is that by becoming a member of our small, but friendly Sangha (community), your life will be enriched.
In Gassho,
Lester Ikuta