Office of the Bishop
Tatsuya Aoki Sensei – 2020 New Year's Greetings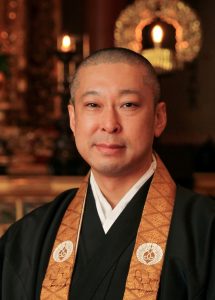 On behalf of the Jodo Shinshu Buddhist Temples of Canada, I wish to thank all of you for your support and understanding throughout the year 2019.
While quietly reflecting on 2019, how quickly a year passes. At such times, I wonder what causes us to lose sight of what is truly of value. "What is the big picture of life that Buddhism tries to encourage us to keep in mind, as we live?" When we lose sight of the big picture, without thinking, we just feel we know what we value, and we know what is right. But the essential point of Buddhism is very simple: What we must value most in life… is life itself. We must value this opportunity to live and appreciate this experience that we share together.
My studies for academic advancement through Nishi Hongwanji was successfully completed in June, 2019. Earlier in the month of April, I started a programme to learn Japanese tea ceremony, "Sado" or "Chado". While I was learning how to make and serve green tea, I also learned about the philosophy of tea ceremony. There is a Buddhist saying that is closely associated with the Tea Master, Sen No Rikyu (1522-1591). The phrase is, "Ichigo-Ichie." Literally, it means, "One Moment-One Meeting." Within the tea ceremony, it implies that our coming together in this moment happens but once in our lifetime; let us appreciate this time together.
Ultimately, in the big picture of things, it is certainly not about winning or losing a hockey game. It is not about getting what we want or having our way. Ultimately and most essentially, it is about valuing life and this time we have together. When our Dharma eyes are open, we cannot help but see that we must not take for granted this very moment of life we are living. As I have often asked, "How many months of Decembers will be ours to enjoy?" However many, that number is limited. Realizing this, let us try to live together and work together harmoniously in the spirit of "Ichigo-Ichie." Let us live knowing that each day is new and fresh and at the same time, each moment may be our last. With our Darma eyes open, let us try to enjoy this winter holiday season, letting go of our complaints, our anger, and resentments and embrace each moment and each meeting with others, knowing that they will never come again. In Jodo Shinshu, we would call a life of Ichigo-Ichie, "A life of Nembutsu."
Thank you for your kindness and support throughout the last year. We look forward to another wonderful year together. I would like to wish everyone a very happy and healthy Holiday Season!
In gassho,
Tatsuya Aoki 
Bishop, Jodo Shinshu Buddhist Temples of Canada