Our Ministers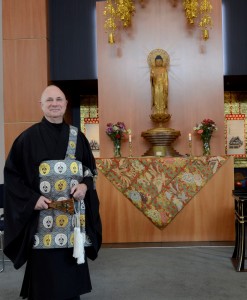 Resident Head Minister
Sensei James Martin has been at the Calgary Buddhist Temple since 2008. He attended the Institute of Buddhist Studies in Berkeley, California to further his studies of Jodo Shinshu Buddhism. In December, 2007 he was granted Kai-Kyoshi (overseas teacher) status by the mother Temple, Honpa Hongwanji, Kyoto, Japan.

Assistant Minister
Sensei Robert completed his Tokudo ordination in Kyoto in November 2014 and is our newest Assistant Minister. He has undertaken further studies at the Jodo Shinshu Center with aspiration to his own Kyoshi.
Assistant Minister
Sensei Ken completed Tokudo ordination at the Hongwanji-Ha Temple in Kyoto in Sept 2012 in order to serve as an Assistant Minister.