President's Message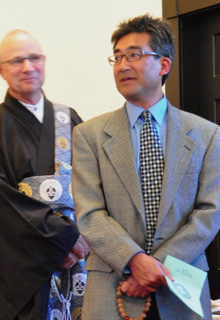 Greetings from t
he Calgary Buddhist Temple
Thank you for visiting the Calgary Buddhist Temple website.  We opened our doors at the present location in October 1984 to a membership primarily of Japanese heritage.  Now in our 29th year, our temple has been embraced by the general community which is reflected in our membership today.
I am honored to be the temple president during the coming year as we have a lot of exciting activities coming up.  A couple of the bigger projects the temple is undertaking are the temple's renovation and the Jodo Shinshu World Women's Convention.  We hope to start the much needed renovation soon.  On May 30/31 2015 Calgary will be hosting 2,000 guests from around the world at the World Women's Convention.  We invite you to participate in the Convention either by attending or volunteering.
Join us for our weekly Thursday evening or Sunday morning services.  Sensei Martin is always reminding us of our vision statement "To set in motion a way of living, learning & teaching a life of joy and gratitude through Jodo Shinshu Buddhism."   You will find his down-to-earth way to guiding and teaching us, refreshing and a wonderful spiritual experience.
If we have not met yet, please come say hi at any of the Sunday services.  My hope is that by becoming a member of our small, but friendly Sangha (community) your life will be enriched.
In Gassho,
Lester Ikuta